Film By
Kindergarten to Year 12
Film By provides teachers and students with filmmaking skills and expertise to tell their own stories.
Image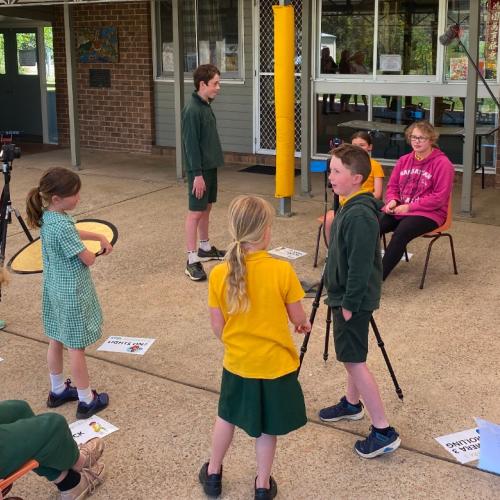 Film By is an initiative of the New South Wales Department of Education. The program includes festivals, workshops and professional learning opportunities in film for teachers and students from all schools in NSW.
Film By exhibits the achievements of filmmakers from Kindergarten to 12 students at local cinemas as part of a series of festivals across NSW. A premiere event also showcases the most outstanding films from across NSW.  Film By also provides digital access to resources and student and teacher professional learning workshops across the state.
Resource – Lights, camera action!
The festival is a showcase supported by Lights, camera, action!, a filmmaking resource produced by The Arts Unit, for students and teachers to learn the basics of filmmaking and how to produce their own films.
---
Film By Invitation
A 'best of the best' film festival called Film By Invitation will be held in November 2023, hosted by The Arts Unit.
Submitted films must be less than 3.5 minutes in duration and adhere to the guidelines of a G-rated film. Films can be submitted by individual students or by a small group of students.
Applications are by nomination through participating in a local Film By event.
---
Film By Online
For schools that do not have access to a local Film By festival, The Arts Unit will host Film By Online. Any school wishing to be part of the Film By Invitation is also encouraged to submit their film to Film By Online​​​​​.
To be selected for Film By Invitation, you must submit your film to one of the following festivals:
All films are to be G rated and under 3.5 minutes. Films will be assessed by an invited panel against a rubric criteria.